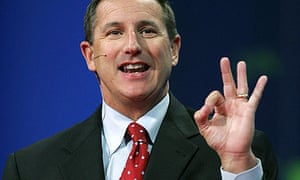 With over 30 years of experience in technology industry and computer hardware, Mark Hurd became the CEO of Oracle Corporation in 2010. With innovative corporate strategies and direction, Mark Hurd focuses on leadership and customer value. He has a vision to innovate and save money and help customers by offering quality products. Prior to Oracle, Hurd worked as a Chairman of the Board, CEO and President of HP and also worked for 25 years in NCR Corporation. He is also the member of Baylor University of Board of Regents.
He began his career as a salesperson for NCR Corporation in San Antonio. Giving 25 years to the organization, he rose to the important position of President in 2001 and later became CEO Mark Hurd. During the tough times of HP, he became the CEO the second time. He had to lay thousands of employees as there was massive cost cut in the organization. Even, he himself took a 20% cut in the pay.
When Oracle hired Mark Hurd, HP sued over that to stop Oracle to sell the version of software that could run on the high end servers of HP. HP won the suit and it was settled that Hurd would be the CEO of Oracle but he had to return some of his HP stock options.
For Hurd, Leadership has three basic elements-
Choosing the right strategy
Perfectly executing the strategy
Putting the right things at the right place
With exceptional qualities, Mark Hurd has taken Oracle to the new heights. He believes in driving operational excellence that makes the strategy effective. His intentions have been to design the best technology products that can be vertically integrated. His idea is to provide customers the choices to access the technology such as using public cloud, private cloud, or hybrid cloud.